Avert your eyes! My Sunday morning look at incompetency, corruption and policy failures:
• Farewell Transmission: Texas' plan to fix its power grid is a disaster: Ever since brutal winter storms blacked out much of Texas and killed hundreds of residents in February 2021, the state's government has… (Slate)

• How Washington allowed bank CEOs to pocket huge bonuses amid failure: Executive pay rules are getting new scrutiny after Silicon Valley Bank's collapse — but still they may not change. (Washington Post)

• Bed Bath & the great Beyond: How the home goods giant went bankrupt: Once an unstoppable retailer — deemed a "category killer" for its triumph over many rivals — Bed Bath & Beyond has now filed for bankruptcy. It plans to begin closing its 360 Bed Bath & Beyond stores and 120 BuyBuy Baby stores. A vision of this chain's survival is bleak. (NPR)

• How Shady Companies Guess Your Religion, Sexual Orientation, and Mental Health And sell that data to the highest bidder. Millions of Americans were using telehealth company and prescription drug provider GoodRx—yet probably didn't know that it was sharing their prescription medications and health conditions with Facebook, Google, and other third parties. The adult and child users of a popular "family safety" app likely didn't realize that the company was quietly selling their location data. (Slate)

• The Ineluctable Logic of Gun Ownership: Shouldn't it be at least as difficult to get a gun license as a driver's license—or better still, as difficult as it is to get a private pilot's license? (The Atlantic) see also Gun Violence Is Actually Worse in Red States. It's Not Even Close. America's regions are poles apart when it comes to gun deaths and the cultural and ideological forces that drive them. (Politico)

• Anatomy of an 'American Transit Disaster'  In his new book, historian Nicholas Dagen Bloom chronicles the collapse of public transportation in US cities — and explains who really deserves the blame. (CityLab)

• Sacklers Gave Millions to Institution That Advises on Opioid Policy: Even as the nation's drug crisis mounted, the National Academies of Sciences, Engineering and Medicine continued to accept funds from some members of the Sackler family, including those involved with Purdue Pharma. (New York Times)

• In a thriving Michigan county, a community goes to war with itself: Ottawa County offers a glimpse of what happens when one of the building blocks of American democracy is consumed by ideological battles. (Washington Post)

• The real reason for the Supreme Court's corruption crisis: Who watches the philosopher kings with lifetime appointments? (Vox)

• When GOP Attorneys General Embraced Jan. 6, Corporate Funders Fled. Now They're Back. Even as the Republican Attorneys General Association has leaned further into promoting Trumpism and sowing doubt about U.S. elections, major sponsors including Amazon, Walmart and Home Depot have resumed their contributions to the group. (ProPublica) see also Republicans 'glorify political violence' by embracing extreme gun culture: Kyle Rittenhouse, who shot and killed two people at an anti-racism protest, was guest of honor at Idaho Republican party fundraiser. (The Guardian)
Be sure to check out our Masters in Business next week with Ben Clymer, founder & chairman of Hodinkee, and Jeffery Fowler the firm's CEO. Fowler and Clymer (dubbed the "High Priest of Horology") discuss all things wristwatches and timepieces, including their experiences at the 2023 Watches & Wonders, why the marketplace has exploded over the past few years, and what are their favorite grail watches.
Untucked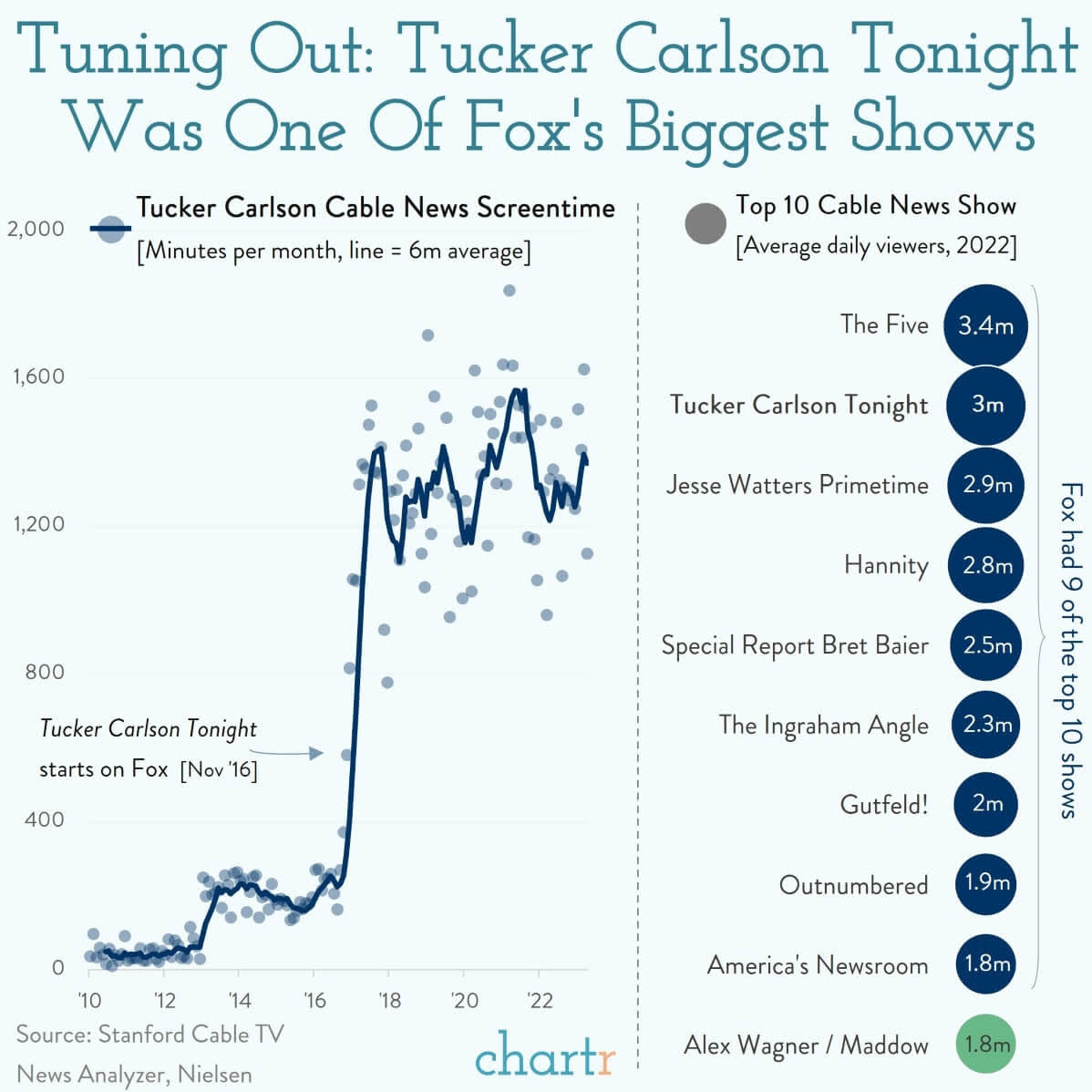 Source: Chartr
Sign up for our reads-only mailing list here.
~~~
To learn how these reads are assembled each day, please see this.