By Lambert Strether of Corrente.
Bird Song of the Day
Cuban Vireo, Mayabeque, Cuba. "Singing in trees along a lane." Other birds in the trees, too.
* * *
Politics
"But what is government itself, but the greatest of all reflections on human nature?" –James Madison, Federalist 51
"Here's food for thought, had Ahab time to think; but Ahab never thinks; he only feels, feels, feels" –Herman Melville, Moby Dick
"So many of the social reactions that strike us as psychological are in fact a rational management of symbolic capital." –Pierre Bourdieu, Classification Struggles
Capitol Seizure
"Jan. 6 committee to vote Monday on riot criminal referrals" [Associated Press]. " The House committee investigating the Capitol riot will hold its final meeting Monday, wrapping up its year-and-a-half-long inquiry by asking the Justice Department to investigate potential crimes…. Attorney General Merrick Garland last month appointed a special counsel, Jack Smith, to oversee investigations related to Trump, including one focused on the insurrection and attempts to overturn the 2020 election results." • Seems like a duplication of effort…

"House Democrats introduce legislation to bar Trump from office under 14th Amendment" [The Hill]. • Not even waiting for the special counsel or the DOJ?
Biden Administration
"National Archives Releases More Than 13,000 Documents on Kennedy Assassination" [Wall Street Journal]. "The release of 13,173 documents amounts to the government's largest release of records about the Kennedy assassination since 2018. The records, posted online Thursday by the National Archives and Records Administration, add to tens of thousands of others released over the years. The National Archives said more than 97% of the records in its collection are now publicly accessible. Investigators amassed five million pages of records related to the murder. Federal authorities have concealed a portion of them for decades over concerns they contained sensitive information."
2022
GA: "Record Turnout in Georgia?? MY A**!" [Greg Palast]. "In Sen. Raphael Warnock's runoff two years ago, the turnout was 4,484,954. This time, the vote plummeted to 3,538,910. Since when is a one-million-vote nosedive a 'record' turnout? Mail-in ballots fell off a cliff. Absentee ballots — which Warnock won two years ago by a stunning two-to-one margin — plummeted by a breathtaking 83%, from over a million (1,084,021) in the 2021 runoff to just 191,286 last week…. Two years ago, a 400,000-vote plurality of mail-in ballots delivered the victory margin for Warnock and his running mate, Jon Ossoff, now Georgia's other Senator. These 'absentee' ballots also won the presidential contest for Joe Biden over Donald Trump for Georgia's electoral votes. A stunned Kemp and his GOP-controlled legislature took note and within mere weeks passed SB202, 98 pages of restrictions that made absentee balloting all but illegal, especially in case of another runoff."
2024
"Chuck Schumer predicts Democrats will hold the Senate majority again in 2024" [NBC]. "Senate Majority Leader Chuck Schumer, beaming with confidence after having proved his doubters wrong and expanded his majority in the midterm elections, vowed without hesitation that the Democratic Party will keep control again in two years. 'Yes, I absolutely do, if we stick to our North Star, which is, help people with things that they need help with,' Schumer, D-N.Y., said in an interview Wednesday in the Capitol." But single payer? Never, ever. (That "North Star" trope is unbiquitous among NGOs.) More: "It will be a herculean task. Democrats are defending three seats in the Republican-leaning states of West Virginia, Montana and Ohio. They're looking to hold five more seats in the closely divided states of Pennsylvania, Michigan, Wisconsin, Nevada and Arizona, where Sen. Kyrsten Sinema recently quit the party and became an independent. And their best pickup opportunities are in Republican-trending Florida and the GOP stronghold of Texas."
Republican Funhouse
"McCarthy's tortured calculus" [Axios]. "House GOP Leader Kevin McCarthy's (R-Calif.) painstaking efforts to quell a right-wing rebellion in his bid to become House speaker have pulled back the curtain on the broader legislative nightmare he'll need to navigate over the next two years. On a number of concessions McCarthy has made or is considering making to his conservative critics, he risks touching off a revolt from other ideological camps — especially moderate and Biden-district Republicans. Failing to balance the wide range of equities within his conference, which is set to have a razor-thin majority, could result in embarrassing defeats for McCarthy in party-line votes — weakening him right out of the gate." • What a weird use of the word "equities." Can readers decode?

"Inside the ugly fight to become the next Republican chair" [Associated Press]. "Struggling to unify after another disappointing election, the Republican National Committee is consumed by an increasingly nasty leadership fight as the GOP navigates its delicate relationship with former President Donald Trump…. As the Republicans' national political arm, the RNC will raise and spend hundreds of millions of dollars in building or rebuilding the party's framework, in campaign messaging and in the year-long presidential nomination process that will begin in earnest before long… As the Republicans' national political arm, the RNC will raise and spend hundreds of millions of dollars in building or rebuilding the party's framework, in campaign messaging and in the year-long presidential nomination process that will begin in earnest before long. Ronna McDaniel, Trump's hand-picked choice to lead the committee and the niece of Utah Sen. Mitt Romney, is running for a fourth consecutive term. But the 49-year-old is facing a rising wave of discontent from Trump's "MAGA" movement, even as the former president stays silent — at least, for now…. California attorney Harmeet Dhillon has emerged as the MAGA favorite to challenge McDaniel, who secured commitments from more than 100 of the RNC's 168 voting members earlier this month. Dhillon is working aggressively to peel away some of that support ahead of the formal vote at next month's annual winter meeting in southern California."

"John Boehner chokes up at Nancy Pelosi's official portrait unveiling" [ABC]. "House Speaker Nancy Pelosi's official portrait was unveiled Wednesday in the U.S. Capitol's Statuary Hall, marking the first time a madame speaker joined the faces of the men who preceded her… Boehner got choked up as he said, 'My girls told me, 'Tell the speaker how much we admire her.' Struggling to keep his trademark emotions in check, he jokingly added, 'As if you couldn't tell, my girls are Democrats.'" • Boehner, however, had a reputation for weeping copiously given the slightest opportunity.

"House Republicans demand testimony from Biden officials, experts on COVID-19 origins, virus research in Wuhan" [FOX]. "The 40 individuals span the Biden administration, the EcoHealth alliance, and several prominent virologists who have already attempted to investigate COVID-19's origins." • It's going to be Benghazi all over again, isn't it?
Democrats en Déshabillé
Patient readers, it seems that people are actually reading the back-dated post! But I have not updated it, and there are many updates. So I will have to do that. –lambert

I have moved my standing remarks on the Democrat Party ("the Democrat Party is a rotting corpse that can't bury itself") to a separate, back-dated post, to which I will periodically add material, summarizing the addition here in a "live" Water Cooler. (Hopefully, some Bourdieu.) It turns out that defining the Democrat Party is, in fact, a hard problem. I do think the paragraph that follows is on point all the way back to 2016, if not before:

The Democrat Party is the political expression of the class power of PMC, their base (lucidly explained by Thomas Frank in Listen, Liberal!). ; if the Democrat Party did not exist, the PMC would have to invent it. . ("PMC" modulo "class expatriates," of course.) Second, all the working parts of the Party reinforce each other. Leave aside characterizing the relationships between elements of the Party (ka-ching, but not entirely) those elements comprise a network — a Flex Net? An iron octagon? — of funders, vendors, apparatchiks, electeds, NGOs, and miscellaneous mercenaries, with assets in the press and the intelligence community.

Note, of course, that the class power of the PMC both expresses and is limited by other classes; oligarchs and American gentry (see 'industrial model' of Ferguson, Jorgensen, and Jie) and the working class spring to mind. Suck up, kick down.

* * *

"Democracy for America on track to shut down" [Politico]. "The organization started in its current form after [Howard] Dean's unsuccessful 2004 presidential campaign, and throughout its history it helped elect more than 1,000 progressive candidates and raised $70 million dollars since it started, staff said. In recent years, it focused on structural democracy reform, ranked choice voting, student debt relief and Medicare for All. Democracy for America endorsed Sen. Bernie Sanders (I-Vt.) in the 2016 presidential primary. Before backing him, it helped organize an unsuccessful campaign to draft Sen. Elizabeth Warren (D-Mass.) into the race. The group also supported Sanders' run in 2020." • It took the Democrats a long time to kill it, but kill it they did.

Speaking of killing it:

Will you look at that.

Principles and backbone https://t.co/gw0Mxg8QWR

— Star Plátano (@Qban_Linx) December 13, 2022

"Bernie Sanders' new challenge: Bipartisanship" [Politico]. "Now the Vermont independent is set to take over the Senate's prestigious Health, Education, Labor and Pensions Committee next year. The panel is the perfect platform for Sanders' top issues, like Medicare for All. It also has a proud bipartisan reputation. Which presents a new challenge for the famously pugnacious progressive as he weighs whether to run for reelection in 2024. Sanders will be taking over the HELP committee, as it's known, under a divided government with his party holding a tiny Senate majority. And he's conspicuously aware that holding one of the top gavels in Congress won't entitle him to muscle his own agenda through. What's more, many Democrats don't support all of Sanders' policy prescriptions. So the gruff 81-year-old is planning to be a chair who can do both: embrace his activist roots while also working across the aisle on incremental gains that could actually become law. 'I'm going to be walking a tightrope,' Sanders said in an interview this week.'I want to work with Republicans on issues where we can make progress. In other areas, they're not going to support me. And I'm not gonna give up on those issues.'" • Schumer's theory of change won: "For every blue-collar Democrat we lose in western Pennsylvania, we will pick up two moderate Republicans in the suburbs in Philadelphia." No need to expand the base. Sanders' theory of change lost.
Realignment and Legitimacy
"Oklahoma takes 'momentous' step to allow taxpayer-funded religious schools" [Politico]. "Oklahoma's departing attorney general just took a big step toward achieving a conservative education milestone. A state law that blocks religious institutions and private sectarian schools from public charter school programs is likely unconstitutional and should not be enforced, Attorney General John O'Connor and Solicitor General Zach West wrote in a non-binding legal opinion this month. Their 15-page memo leans on a trio of recent U.S. Supreme Court decisions that favored religious schools and won rapt attention from conservative school choice advocates and faith groups. Oklahoma Republican Gov. Kevin Stitt said the advisory opinion 'rightfully defends parents, education freedom, and religious liberty in Oklahoma.' Newly-elected state Superintendent Ryan Walters called it 'the right decision for Oklahomans.' Now it's time to see if faith-based Oklahoma institutions successfully apply for taxpayer support to create charter schools that teach religion as a doctrinal truth just like private schools do today, and if legislators will push to change state law. Legal authorities in other Republican-led states could also pen similar opinions." • Weird flex that "religious liberty" = "public funding," but OK.
#COVID19
Lambert here: I am but a humble tapewatcher, but unlike Eric Topol, I'm not calling a surge, because the last peak was Biden's Omicron debacle, and after an Everest like that, what's left? Topol's view is the establishment view: Hospital-centric. Mine is infection-centric. I do not see the acceleration or doubling in cases that I would expect to see based on past surges. There is also the TripleDemic aspect, which I don't know enough about.
I am calling a "Something Awful." It's gonna be bad, in some new way, and we don't know how, yet. Wastewater has taken off in New York, Chicago, San Francisco, and Los Angeles, right on time, two weeks after Thanksgiving. Those are not only in themselves large cities, they are all the sites of international airports (reminiscent of the initial surge in spring 2020, which emanated, via air travel, from New York). Wastewater is a leading indicator for cases, which in turn lead hospitalization (and death). In addition, positivity has begun to increase again (Walgreens), and BQ.1* has taken over. Finally, I'm hearing a ton of anecdotes (and do add yours in comments).
Stay safe out there! If you are planning to travel on Xmas, do consider your plans carefully.
• "Hospital CEO exits climb in what may be bellwether for C-suites" [Becker's Hospital Review]. Getting out in time? Because Something Awful is coming? The real story is buried in the final paragraph: "In an Oct. 18 report from Kaufman Hall based on response from 86 health system leaders [sic], 46 percent said labor costs are the largest opportunity for cost reduction — up significantly from the 17 percent of leaders who said the same last year. Job cuts at hospitals may seem counterintuitive given the nation's widely known shortages of healthcare workers. But as hospitals weather one of their most financially difficult years, some are reducing administrative staff, not filling vacant jobs or shrinking their executive teams to curb costs."
• "CT COVID hospitalizations are up nearly 60% from a month ago" [CT Mirror] "Connecticut's COVID hospitalizations have risen by 58% over the last four weeks, and with families and colleagues preparing to gather for the holidays, health officials are urging people to don masks indoors and consider the well-being of others as they go about the seasonal bustle. On Nov. 17, the state recorded 325 COVID hospitalizations and a seven-day average positivity rate of 7.3%. By Thursday, hospitalizations had climbed to 515 and the positivity rate reached 11.4%. Hospitals have added more than 100 patients with COVID since the start of December alone." • Note how the positivity rate is much higher than the national average. Once again, national averages conceal local surges." • A lot of material on, well, personal risk assessment. Worth a read to hear what people are saying on the ground.
* * *
• Missed opportunities:
In 2022, results from a study of 3027 classrooms in Italy speak for themselves. They confirmed the recommendation from @j_g_allen and @AndrewMIbrahim. Infection rates varied inversely with ACH: 6 reduced infections by 80%, 4 by 67%, and 2.4 by 40%. (5/16) https://t.co/VYR83qoEe8 pic.twitter.com/9SROtXeiWf

— Devabhaktuni "Sri" Srikrishna (@sri_srikrishna) December 16, 2022
I wonder if Clyburn's report on "PREPARING FOR AND PREVENTING THE NEXT PUBLIC HEALTH EMERGENCY: Lessons Learned from the Coronavirus Crisis" includes any material on ventilation. I'll be pleasantly surprised if it does.
• Maskstravaganza: "A biased and underpowered study produced the expected null result" (letter) [Annals of Internal Medicine]. An evisceration of the Loeb study, produced by Infection Control goons and purporting to show that surgical masks and N95s provided the same protection. The study is at the top of the page; you have to scroll down to read the letter, an odd arrangment. "Loeb et al state "the overall estimates (in their trial) rule out a doubling in hazard", but no such conclusion is possible. The trial used an extraordinary threshold (a hazard ratio of 2, or a 100% relative increase in risk) for non-inferiority, and was underpowered to find smaller, but still important, risks. (We estimate that a four-fold increase in sample size would have been needed to identify a 50% increase in relative hazard). Power aside, design flaws biased the study towards the null result that was obtained. First, the intervention under study was incorrect use of N95 respirators – intermittently rather than continuously. SARS-CoV-2 is an airborne pathogen (1, 2). Infection occurs via inhalation of shared air, and infective aerosols accumulate over time in closed indoor settings. As such, only continuous use of N95 respirators protects healthcare workers against respiratory infection whilst intermittent use of medical masks and respirators are equally ineffective (3). Unplanned crossover (those randomized to medical masks could reassign themselves to the N95 arm based on unrecorded risk assessment) and contamination due to failure to use a cluster design further biased study results towards the null (4)." • I'm trying to put together a joke on "frontal lobes," but time presses. Commentary:
None of the MDs declared that they had already expressed their expert opinion on that matter. Fundamental to any scientific inquiry is having an open state of mind. Not declaring in advance that you had already made up your mind. Well, there's a word for that. Unethical.

— Matthew Oliver (@sameo416) December 15, 2022
One of the things I like about the airborne community — besides the fact that they seem genuinely co-operative — is that they know how to throw a punch.
• Maskstravaganza:
We're putting an end to compulsory mask wearing in care homes in time for Christmas.

I hope this means thousands more people in care will get to see a smile this winter: https://t.co/4eytqklOrj pic.twitter.com/uEhy4nFazH

— Helen Whately (@Helen_Whately) December 15, 2022
Somebody should make a zombie movie where the zombies all smile.
* * *
• More on the lethal nonsense of "immunity debt":
It also means that medical science is futile. Any attempt to prevent infection only ever leads to worse infections. The only valid way to prevent infection is to increase infections. If this fails, it can only be because you did not increase the number of infections enough!

— Dr Satoshi Akima FRACP 『秋間聰』 (@ToshiAkima) December 15, 2022
* * *
• "Mucosal Immunity After Novel COVID-19 Infection – Virus-Induced Immunosuppression: Preliminary Study" [BioNanoScience]. "In recovered COVID-19 patients, the state of mucosal immunity remains understudied…. Functional disorders due to inhibited phagocytosis of autoflora are recorded. Functionally defective cells are brought into the nasal secretions; they demonstrate severely inhibited oxygen-dependent biocidity, rapid depletion of reserves, incomplete phagocytosis, and limited ability to capture pathogens, which can contribute to the growth of various pathogenic viruses and bacteria…. . Virus-induced, functional, and metabolic impairment of neutrophils of the mucosal immunity system develop in recovered COVID-19 patients, thus providing a scientific rationale for immunomodulatory therapy." • Makes you wonder if these effects make it more likely that people will catch Covid again (and again…).
• "The prevalence and long-term health effects of Long Covid among hospitalised and non-hospitalised populations: A systematic review and meta-analysis" [Science Direct]. From the Interpretation: "Our work shows that 45% of COVID-19 survivors, regardless of hospitalisation status, were experiencing a range of unresolved symptoms at ∼ 4 months. Current understanding is limited by heterogeneous study design, follow-up durations, and measurement methods. Definition of subtypes of Long Covid is unclear, subsequently hampering effective treatment/management strategies."
* * *
• "Effect of Ivermectin 600 mcg/kg for 6 days vs Placebo on Time to Sustained Recovery in Outpatients with Mild to Moderate COVID-19: A Randomized Clinical Trial" (preprint) [medRxiv]. I love the "Competing Interest Statement"; it's really long! In any case, for the longest time, at least here at NC, consensus is that the only use case for the drug that cannot be named is prophylaxis, which has some support from clinicians; and in any case the risks, both in cost and side effects, are so incredibly low, and the benefits so great, that it's really a no-brainer, on a par with carrying two aspirins in case of stroke (if you're at risk for that). Oh well, the authors have kids to send to college, I guess.
* * *
• "More than a third of parents oppose vaccine requirements in schools, KFF survey finds" [CNN]. "More than a third of US parents say that vaccinating children against measles, mumps and rubella should be an individual choice and not a requirement to attend public school, even if that may create health risks, according to survey data published Friday by the Kaiser Family Foundation. That's a notable increase from pre-pandemic times. A similar poll from the Pew Research Center found that 23% of parents opposed vaccine requirements in schools in 2019, but that's now jumped to 35% in the KFF survey. All 50 states and the District of Columbia require children attending public school to be vaccinated against certain diseases, including measles and rubella. Exemptions are allowed in only some circumstances. In central Ohio, a measles outbreak that started last month continues to grow, spreading entirely among children who were not fully vaccinated." • Only Democrats could successfully replace "public health" with "individual choice."
* * *
Lambert here: "The nation's leading science-based, data-driven, service organization that protects the public's health" can't keep its website up and running, so unfortunately I won't be able to update its material. We're in the midst of something awful. How am I supposed to make my personal risk assessment without current data?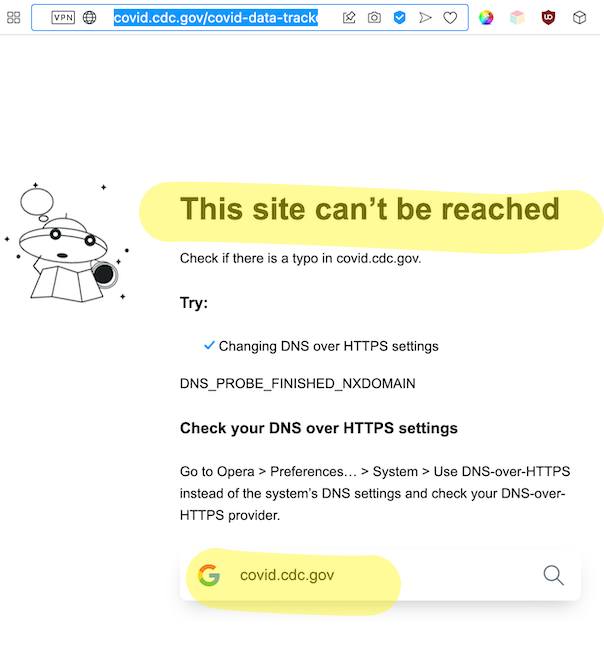 I'm guessing the CDC drank their own Kool-Aid and cut back on capacity or staffing because "the pandemic is over." (I bet their traffic would be a good heuristic for peaks, too; I wonder if anyone could get hold of it? It should be public data, after all.)
Transmission
SITE DOWN Here is CDC's interactive map by county set to community transmission (the "red map"). (This is the map CDC wants only hospitals to look at, not you.)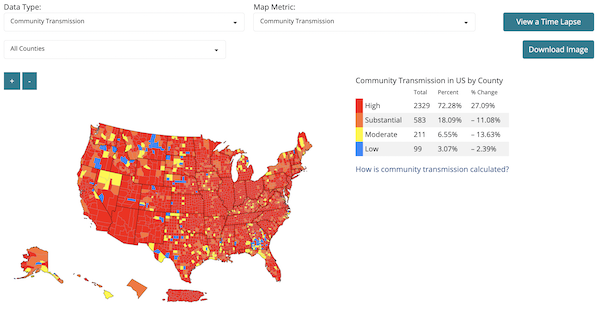 NOTE: CDC doesn't say how often this updates.
Lambert here: Some readers seemed not to be aware of the difference between the "green map" (community levels) and the "red map" (transmission) so I am reintroducing the boilerplate I once used:
NOTE: I shall most certainly not be using the CDC's new "Community Level" metric. Because CDC has combined a leading indicator (cases) with a lagging one (hospitalization) their new metric is a poor warning sign of a surge, and a poor way to assess personal risk. In addition, Covid is a disease you don't want to get. Even if you are not hospitalized, you can suffer from Long Covid, vascular issues, and neurological issues. That the "green map" (which Topol calls a "capitulation" and a "deception") is still up and being taken seriously verges on the criminal.
Positivity
From the Walgreen's test positivity tracker, published December 13: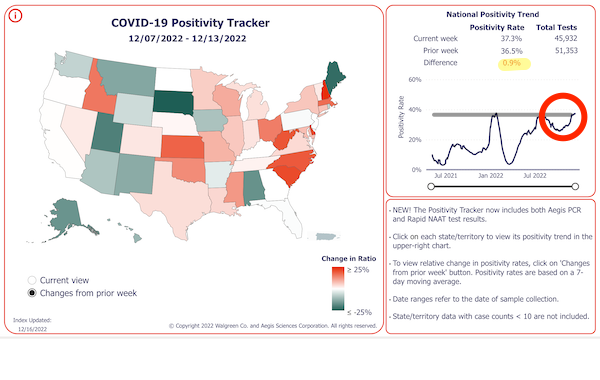 0.9%. Still increasing.
Wastewater
SITE DOWN Wastewater data (CDC), December 11: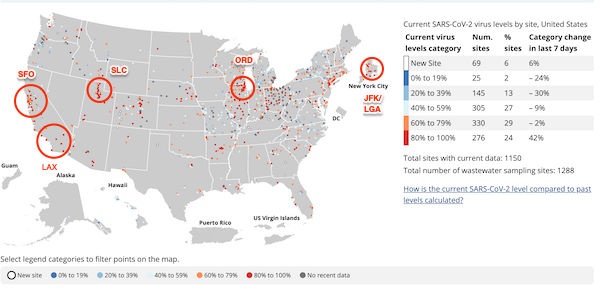 Yikes. After five days I come back, and this is what I see. I've circled the hot spots, and put airports next to them. JFK/LGA (New York), ORD (Chicago), SLC (Salt Lake City), SFO (San Francisco), and LAX (Los Angeles) are all red. (I assume SLC is from ski resorts, which spread a good deal of infection in the very first wave). Plenty of virus emerging, just about two weeks after Thanksgiving travel ended. The Covid train always leaves on time! And you know what? There's always another train coming! (Good job on the Blue Cities, Democrats. Good thing they're so heavily propagandized! Showed some foresight there, I must say.)
December 6: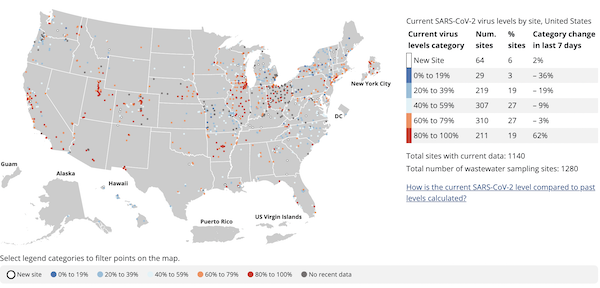 And MWRA data, December 13: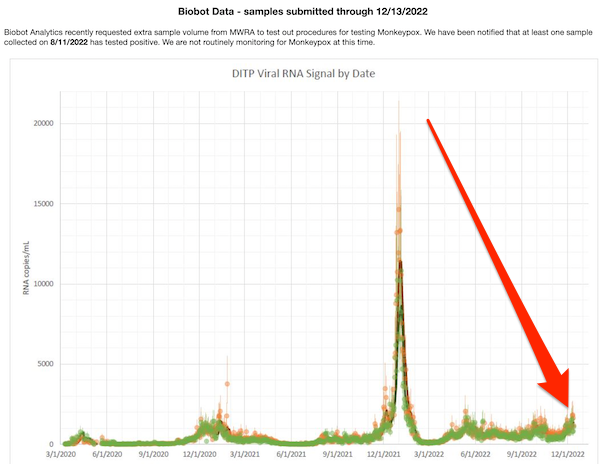 Lambert here: Boston resumes its upward climb.
Variants
Lambert here: It's beyond frustrating how slow the variant data is. Does nobody in the public health establishment get a promotion for tracking variants? Are there no grants? Is there a single lab that does this work, and everybody gets the results from them? [grinds teeth, bangs head on desk]. UPDATE Yes. See NC here on Pango. Every Friday, a stately, academic pace utterly incompatible with protecting yourself against a variant exhibiting doubling behavior.
Variant data, national (Walgreens), December 2: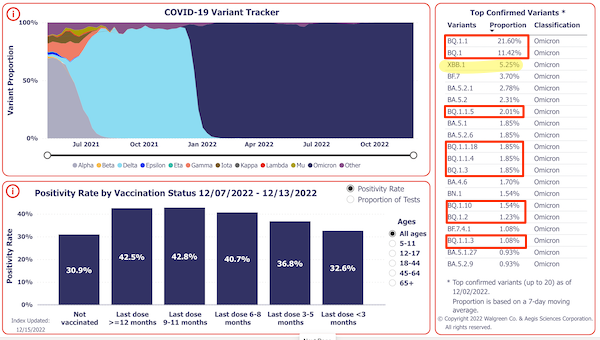 Lambert here: BQ.1* dominates, XBB coming up on the outside. Not sure why this data is coming out before CDC's, since in the past they both got it from Pango on Fridays.
SITE DOWN Variant data, national (CDC), November 19 (Nowcast off):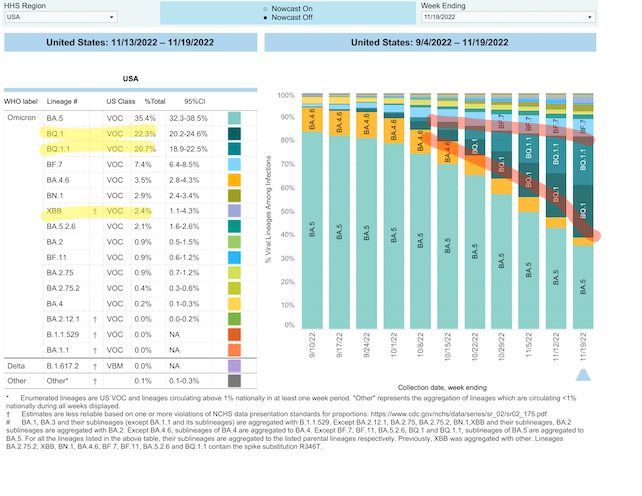 BQ.1* takes first place. Note the appearance of XBB.
• As a check, since New York is a BQ.1* hotbed, New York hospitalization, updated December 14: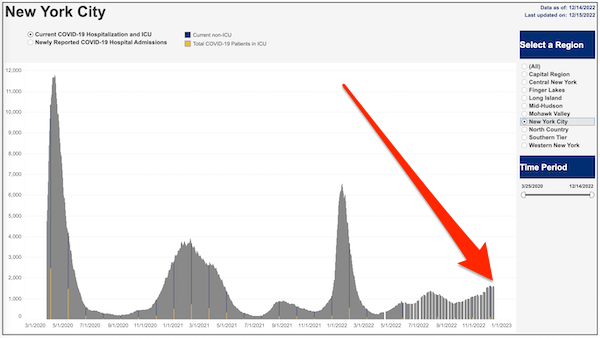 Lambert here: Looks like a plateau, for now. But hospitalization lags cases, so we shall see.
• Hospitalization data for Queens, updated December 10: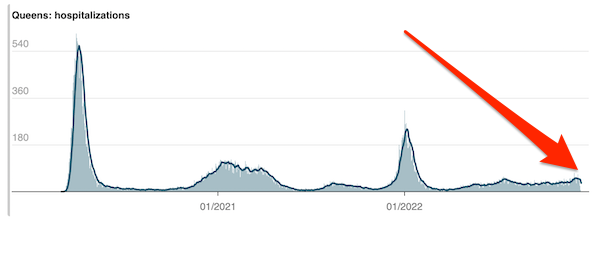 Ditto.
Deaths
Death rate (Our World in Data):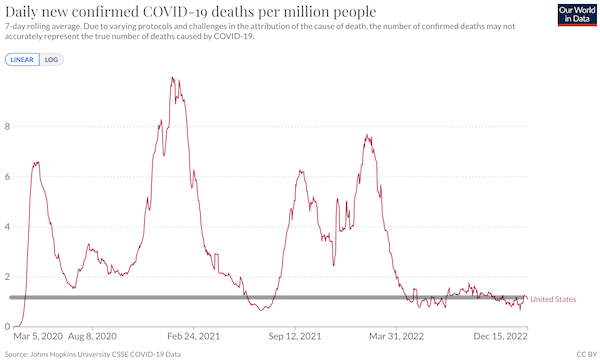 Total: 1,112,797 – 1,111,664 = 1133 (1133 * 365 = 413,545 deaths per year, today's YouGenicist™ number for "living with" Covid (quite a bit higher than the minimizers would like, though they can talk themselves into anything. If the YouGenicist™ metric keeps chugging along like this, I may just have to decide this is what the powers-that-be consider "mission accomplished" for this particular tranche of death and disease).
It's nice that for deaths I have a simple, daily chart that just keeps chugging along, unlike everything else CDC and the White House are screwing up or letting go dark, good job.
Stats Watch
There are no official statistics of interest today.
* * *
The Bezzle: "We need to talk about the CFTC" [Financial Times]. The deck: "Pwned by Sam Bankman-Fried." "Yes, the CFTC might not have been able to prevent the FTX debacle. Frauds happen. But the agency has consistently acted as a friendly champion of a fraud-riddled dumpster fire it purportedly wants to supervise."
The Bezzle: "CEOs React To Arrest Of Sam Bankman-Fried" [The Onion]. "Marillyn Hewson (Lockheed Martin): 'If you need him killed, I'm your gal.'"
The Bezzle: "Alleged Lying, Bullying, Compliance-Ignoring And Possible Fraud No Reason For Hedge Fund Not To Invest $50 Million With Outgoing Portfolio Manager" [DealBreaker]. The deck: "Allegedly. And, relatedly, Robert Gagliardi would still like the rest of his bonus." • Fun stuff!
Tech: "1 big thing: The "battery belt" widens" [Axios]. "Battery company Redwood Materials is investing $3.5 billion in a gigantic, new South Carolina recycling and manufacturing campus that will produce enough components to power a million electric vehicles, Joann Muller reports. It's the latest in a wave of huge investments across America's emerging "battery belt," spurred on by new government policies and tax credits designed to promote development of a domestic EV supply chain. The more batteries produced or recycled in the U.S., the less geopolitical risk the country faces from relying on foreign supply chains. Even with all the recent investments, the U.S. still won't have enough battery capacity to meet expected EV demand by the end of the decade."
Tech: "US opens safety probe into autonomous driving system in GM's Cruise vehicles" [Channel News Asia]. "U.S. auto safety regulators said Friday they have opened a formal safety probe into the autonomous driving system in vehicles produced by General Motors' robotaxi unit Cruise LLC. The National Highway Traffic Safety Administration (NHTSA) said it has received notices of incidents in which self-driving Cruise vehicles "may engage in inappropriately hard braking or become immobilized."… Cruise said it has 'driven nearly 700,000 fully autonomous miles in an extremely complex urban environment with zero life-threatening injuries or fatalities…. There's always a balance between healthy regulatory scrutiny and the innovation we desperately need to save lives, which is why we'll continue to fully cooperate with NHTSA or any regulator in achieving that shared goal.'" • 700,000 miles is nothing. PR-driven crapola.
Mr. Market:
between 2015 and 2021, investors became less informed about every investment topic except short selling pic.twitter.com/q8G6rekDnb

— Myles Udland (@MylesUdland) December 16, 2022
* * *
Today's Fear & Greed Index: 42 Fear (previous close: 51 Neutral) [CNN]. One week ago: 53 (Neutral). (0 is Extreme Fear; 100 is Extreme Greed). Last updated Dec 16 at 2:06 PM EST.
"We Don't Deserve Dogs"
"Genetic research confirms your dog's breed influences its personality — but so do you" [The Conversation]. "In a new paper, researchers from the United States zoomed into the genetic codes of more than 4,000 different dogs, and surveyed 46,000 pet owners. They identified many genes associated with behaviours typical of certain breeds, such as the tendency for terriers to catch and kill prey. Their findings ultimately suggest the type of breed does indeed explain many aspects of a dog's unique personality…. In fact, a different genetic study earlier this year suggested that while a dog's lineage is one influencer of behaviour, it's probably not the most important. Those researchers stress that dog behaviour is influenced by many different genes that existed in dogs before breeds were developed, and these genes are present in all breeds. They argue modern breeds are mainly distinguished by their looks, and their behaviour is likely more heavily influenced by environmental factors such as upbringing and learning history, than genetics. So what does that mean for dog owners? Well, while a dog's behaviour is influenced by its breed, there's much we can do to shape a good canine companion."
The 420
"UCLA said its pot research was independent but hid that Big Cannabis was paying some of the bills" [Los Angeles Times]. "When UCLA started its cannabis research initiative five years ago, the university hailed the undertaking as one of the first academic programs in the world dedicated to studying the health effects of pot…. The Times asked UCLA officials whether the university accepted donations from the industry to support the program. They said no. However, documents obtained by the newspaper, eventually released by UCLA under the California Public Records Act, show that cannabis companies and investors provided at least some of the early financial support, writing checks for tens of thousands of dollars in donations and assisting with fundraising events. The industry support underscores potential conflicts of interest as pot goes mainstream and researchers try to assess the health and other effects of cannabis. A marijuana investor and foundations with ties to the newly legal cannabis industry have donated millions of dollars to university research programs studying claims of the plant's medical virtues, raising questions about how independent the scientific research can be."
Gunz
"A N.J. school is getting armored shields to protect students and teachers in a mass shooting. Will others follow?" [Philadelphia Inquirer]. "A South Jersey school district plans to equip its schools with a new tool: bullet-resistant portable shields to protect teachers and students in the event of an active shooter in the building. The Gloucester City school system could be the first district to put the lightweight steel safety shields in its schools." • Freedom isn't free.
Guillotine Watch
"In Clover" [London Review of Books]. A history of management consulting. Take McKinsey–please! "Bogdanich and Forsythe's​ book is a damning account of the way McKinsey has made workplaces unsafe, ditched consumer protections, disembowelled regulatory agencies, ravaged health and social care organisations, plundered public institutions, hugely reduced workforces and increased worker exploitation. It begins with an account of McKinsey-driven cost-cutting at US Steel, which led to the deaths of two steelworkers. Similar measures at Disney resulted in a young man being crushed to death on the Big Thunder Mountain rollercoaster. Decades after the consequences of smoking became clear, McKinsey continued to work for the big tobacco producers. As the extent of the US opioid epidemic became apparent, McKinsey advised Purdue Pharma to find 'growth pockets' where OxyContin could be more easily prescribed, and lobbied regulators for laxer rules on prescriptions. McKinsey's unethical activities pack the pages of this book, while its supercilious vocabulary of 'values' and 'service' runs like an oil slick over slurry. The primary product sold by all management consultants – both software developers and strategic organisers – is the theology of capital. This holds that workers are expendable. They can be replaced by machines, or by harder-working employees grateful they weren't let go in the last round of redundancies. Managers are necessary to the functioning of corporations – or universities, or non-profit organisations – and the more of them the better. Long working hours and bootstrap entrepreneurialism are what give meaning to life. Meritocracies are a real thing. Free trade, laissez-faire capitalism and reduced regulation are necessary stepping stones towards the free market utopia. There is also a faith that this work is helping 'create positive, enduring change in the world', as McKinsey's mission statement puts it." • Positive for whom? For what? A question that answers itself, once asked. Well worth reading in full.
Class Warfare
"Starbucks Baristas Are Unionizing, and Even Howard Schultz Can't Make Them Stop" [Bloomberg]. "Until December, none of Starbucks' roughly 9,000 corporate-run US coffee shops were unionized—owing in part to the company's aggressive resistance to organizing, but also to the relatively strong pay and benefits that give Schultz so much pride. (By August, all US employees will be guaranteed a minimum wage of $15 an hour.) Now workers at more than 60 locations in 17 states have voted to join Workers United, an affiliate of the Service Employees International Union, following the lead and advice of first-mover baristas in Buffalo. Employees at about 175 more Starbucks have petitioned the federal government for votes of their own. Although this hardly represents the majority of the company's stores, and none of the workers have negotiated a contract yet, the steady drip has transformed the idea of winning a union vote at a Starbucks from seemingly impossible to almost inevitable. As of May 10, only eight stores have called an election and then voted to reject the union. Successful votes have taken place from coast to coast, including in deep-red states as well as at a flagship megacafe in Seattle. Employees attempting to organize at Amazon, Apple, Verizon, and elsewhere cite these successes as an inspiration." • More like this, please.
University of California strike:
UC academic workers' strike update; 14 people were arrested yesterday protesting at the Regent's meeting at UCLA and a Physics professor at UCSD, Max Di Ventra, essentially fired a grad researcher for striking which is illegal pic.twitter.com/Ja3cX3uvkD

— Michael Sainato (@msainat1) December 15, 2022
Make it personal….
News of the Wired
"Cory Doctorow Wants You to Know What Computers Can and Can't Do" (interview) [Cory Doctorow]. A terrific interview, well worth reading in full. Picking on the material on AI: " I think that the problems of A.I. are not its ability to do things well but its ability to do things badly, and our reliance on it nevertheless. So the problem isn't that A.I. is going to displace all of our truck drivers. The fact that we're using A.I. decision-making at scale to do things like lending, and deciding who is picked for child-protective services, and deciding where police patrols go, and deciding whether or not to use a drone strike to kill someone, because we think they're a probable terrorist based on a machine-learning algorithm—the fact that A.I. algorithms don't work doesn't make that not dangerous. In fact, it arguably makes it more dangerous. The reason we stick A.I. in there is not just to lower our wage bill so that, rather than having child-protective-services workers go out and check on all the children who are thought to be in danger, you lay them all off and replace them with an algorithm. That's part of the impetus. The other impetus is to do it faster—to do it so fast that there isn't time to have a human in the loop. With no humans in the loop, then you have these systems that are often perceived to be neutral and empirical. Patrick Ball is a statistician who does good statistical work on human-rights abuses. He's got a nonprofit called the Human Rights Data Analysis Group. And he calls this 'empiricism-washing;—where you take something that is a purely subjective, deeply troubling process, and just encode it in math and declare it to be empirical. If you are someone who wants to discriminate against dark-complexioned people, you can write an algorithm that looks for dark skin. It is math, but it's practicing racial discrimination. I think the risk is that we are accelerating the rate at which decision support systems and automated decision systems are operating. We are doing it in a way that obviates any possibility of having humans in the loop. And we are doing it as we are promulgating a narrative that these judgments are more trustworthy than human judgments." • That's why we should kill AI with fire. There, I said it. I'm a Luddite.
* * *
Contact information for plants: Readers, feel free to contact me at lambert [UNDERSCORE] strether [DOT] corrente [AT] yahoo [DOT] com, to (a) find out how to send me a check if you are allergic to PayPal and (b) to find out how to send me images of plants. Vegetables are fine! Fungi and coral are deemed to be honorary plants! If you want your handle to appear as a credit, please place it at the start of your mail in parentheses: (thus). Otherwise, I will anonymize by using your initials. See the previous Water Cooler (with plant) here. From R.W.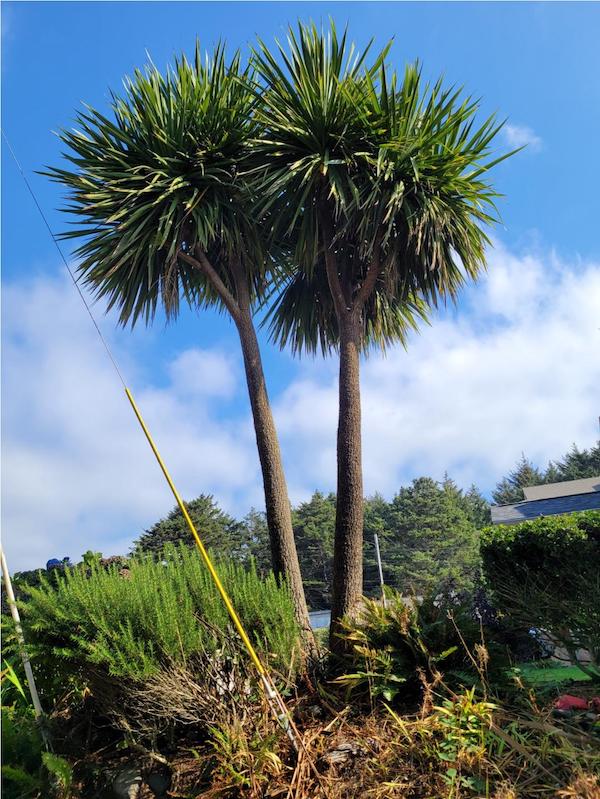 R.W. writes: "Some kind of palm?? In Cannon Beach, Oregon."
* * *
Readers: Water Cooler is a standalone entity not covered by the annual NC fundraiser. So if you see a link you especially like, or an item you wouldn't see anywhere else, please do not hesitate to express your appreciation in tangible form. Remember, a tip jar is for tipping! Regular positive feedback both makes me feel good and lets me know I'm on the right track with coverage. When I get no donations for five or ten days I get worried. More tangibly, a constant trickle of donations helps me with expenses, and I factor in that trickle when setting fundraising goals:
Here is the screen that will appear, which I have helpfully annotated: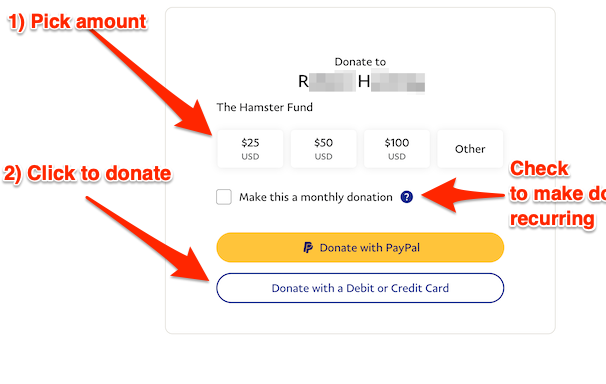 If you hate PayPal, you can email me at lambert [UNDERSCORE] strether [DOT] corrente [AT] yahoo [DOT] com, and I will give you directions on how to send a check. Thank you!