By Lambert Strether of Corrente.
Bird Song of the Day
Red-headed Bunting, Barbanda Pond and Surroundings, Raipur, Chhattisgarh, India.
* * *
Politics
"So many of the social reactions that strike us as psychological are in fact a rational management of symbolic capital." –Pierre Bourdieu, Classification Struggles
Biden Administration
"Some U.S. Solar Makers Criticize Biden's Tax Credits as Too Lax on China" [New York Times]. "The Treasury Department, in guidance issued on Friday, said it would offer a 10 percent additional tax credit for facilities assembling solar panels in the United States, even if they import the silicon wafers used to make those panels from foreign countries. Under the Biden administration's new climate legislation, solar and wind farms can apply for a 30 percent tax credit on the costs of their facilities. Senior administration officials told reporters on Thursday that they were trying to take a balanced approach, one that leaned toward forcing supply chains to return to the United States. But China's dominance of the global solar industry has created a tricky calculus for the Biden administration, which wants to promote U.S. manufacturing of solar products but also ensure a plentiful supply of low-cost solar panels to reduce carbon emissions."
2024
I guess it's time for the Countdown Clock!

* * *

"Ron — not Don — and an act of God descend on Iowa" [Politico]. "Ron DeSantis declined to go after Donald Trump directly on Saturday during his most high-profile swing through Iowa to date. Fortunately for the Florida governor, the prospect of a literal tornado kept Trump away — and out of the spotlight…. After an onslaught of negative coverage about DeSantis' campaign tanking before it takes off, sliding poll numbers and Trump reveling after his primetime CNN town hall Wednesday, the Florida governor finally caught a break this weekend. There was no sold-out rally across the state to which DeSantis' crowd size would be compared. Trump, that night, wouldn't get another televised speech. DeSantis, meanwhile, tried to subtly make his case against Trump…. DeSantis' attempts to connect with voters in Iowa — including making an unannounced stop at a Pizza Ranch restaurant — show he is at least attempting to up his game ahead of his anticipated launch. Trump, meanwhile, has been greeted by adoring crowds during impromptu stops at restaurants and fast-food establishments on his recent campaign travels." • The video from Politico:

DeSantis's affect — the sing-song, lecturing tone — reminds me of… Al Gore. Quite probably he doesn't always sound like this, but a happy warrior he is not.

"Ron DeSantis tiptoes around Iowa as Trump cancels visit amid tornado threat" [NBC]. "But DeSantis, who is on the verge of triggering campaign finance requirements for making his bid official, declined to say definitively that he will run — or answer questions about abortion and whether, like Trump, he would be inclined to pardon people convicted in connection with the Jan. 6, 2021, insurrection [sic]." • No, not a happy warrior. Weird. Didn't they teach him anything at Yale?

"The Ratcatcher" (interview) [Ron DeSantis, The American Conservative]. Not an interview as most would understand it, but a long analysis of Disney's Reedy Creek fiefdom with quotes from DeSantis interspersed. This caught my eye: "'Does an absence of government necessarily mean free market?' DeSantis asked rhetorically. 'I would say, sometimes, absence of government could just devolve into corporatism, and I think too many people on the right have basically been corporatists over the years.' 'What even is the free market is exactly the right [question]," [Oren] Cass said when I told him about DeSantis's comment. 'The analogy I've started drawing that I think makes sense, is what do we mean by democracy? By democracy, we don't mean everybody just votes on everything. Democracy is shorthand for actually a very sophisticated system of institutions with constraints and checks and balances.' 'Why is it that well intentioned, smart, free-market advocates have such a problem with what DeSantis is doing with Disney?" [Heritage Foundation President Kevin] Roberts asked. 'It's because they're conflating the free market in theory, or the free market as an ideal, with mostly what we have in the United States today, which is corporatism.' From Roberts's perspective, 'Disney, like so many other Fortune 500 companies, has just lived at the trough of corporatism for too long, and then they shield themselves in the fake armor of the free market, when in fact, it isn't the free market at all.'" • Hmm.

"The View from Inside the Room" [Political Wire]. Quoting Puck: "When I turned on my phone after the event, the text messages came flying in. You saw the coverage afterwards. People thought it was more of a rally than a town hall—maybe at one point even a debate between Kaitlan Collins and Donald Trump. But in that room, I remember walking out and people in the front row were like, He's talking some crazy stuff, and I think a lot of these lawsuits are adding up. There was heavy skepticism. He kind of lost the audience at some point when he was rambling about January 6th and the back and forth around the tweets. And then there were some people that were like, This is vintage Trump. I'm so happy to see him stick it to CNN right in their face. So it was a mix. Unfortunately, I think that when people hear applause on TV, they just assume that the entire room was on his side, but that just wasn't the case…"

"If Biden Bows Out, How About Michelle Obama?" [Douglas Schoen and Andrew Stein, Wall Street Journal]. "A Zogby Analytics poll released last year found that if Mr. Biden were to bow out in 2024, Mrs. Clinton would be a distant third choice for Democratic primary voters, behind Ms. Harris in second place. The favorite is the only Democrat with broad national appeal: Michelle Obama. Mrs. Obama is popular within the Democratic Party. She left the White House with a 68% favorability rating nationally and was one of the most admired women in the U.S. from 2018 through 2020, according to Gallup polls. With a broad network of supporters and the ability to resurrect Barack Obama's political organization, she would be the strongest candidate by far. While Mrs. Obama has expressed no desire to seek national office, she may be persuaded to jump in if Mr. Biden can't run and Mr. Trump appears close to returning to the White House." • Love the bios: "Mr. Schoen was a senior adviser to Bill Clinton's 1996 campaign, a White House adviser (1994-2000) and an adviser to Hillary Clinton's 2000 U.S. Senate campaign. Mr. Stein, a Democrat, served as New York City Council president, 1986-94."

* * *

"America's State Media: The Blackout on Biden Corruption is Truly "Pulitzer-Level Stuff"" [Jonathan Turley]. "Now that the House has released corroboration in actual money transfers linking many in the Biden family, the media is insisting that this is no scandal because there is no direct proof of payments to Joe Biden. Putting aside that this is only the fourth month of an investigation, the media's demand of a direct payment to President Biden is laughably absurd. The payments were going to his family, but he was the object of the influence peddling. The House has shown millions of dollars going to at least nine Bidens like dividends from a family business. As a long-time critic of influence peddling among both Republicans and Democrats, I have never seen the equal of the Bidens. The whole purpose of influence peddling is to use family members as shields for corrupt officials. Instead of making a direct payment to a politician, which could be seen as a bribe, you can give millions to his or her spouse or children. Moreover, these emails include references to Joe Biden getting a 10 percent cut of one Chinese deal. It also shows Biden associates warning not to use Joe Biden's name but to employ code names like "the Big Guy." At the same time, the president and the first lady are referenced as benefiting from offices and receiving payments from Hunter." • Bank records here and here. From the first link:

I don't have to untangle the entire yarn diagram to know there's no good reason for these particular knots. Payments from a shell company to multiple members of the Biden clan? For what services rendered? (This money flow is from China. There's a similarly structured money flow from Romania. Certainly the Biden clan has global reach!) And:

…Under the current approach to journalism, it is the New York Times that receives a Pulitzer for a now debunked Russian collusion story rather than the New York Post for a now proven Hunter Biden laptop story.

— Jonathan Turley (@JonathanTurley) May 15, 2023

At least the Clinton's had some originality: They set up a foundation. That's classy! All the Bidens did was set up a bunch of shell companies. Guys, come on.

Paging Karl Rove:

RFK Jr shares that Dennis Kucinich is his campaign manager in his 2024 presidential bid https://t.co/NeCJMYkgtB

— Ben Jacobs (@Bencjacobs) May 5, 2023

Not all that new: RFK Jr. to appear with Kucinich in Ohio governor's race AP. I don't know if Kucinich has any managerial abilities….
Democrats en Déshabillé
Patient readers, it seems that people are actually reading the back-dated post! But I have not updated it, and there are many updates. So I will have to do that. –lambert

I have moved my standing remarks on the Democrat Party ("the Democrat Party is a rotting corpse that can't bury itself") to a separate, back-dated post, to which I will periodically add material, summarizing the addition here in a "live" Water Cooler. (Hopefully, some Bourdieu.) It turns out that defining the Democrat Party is, in fact, a hard problem. I do think the paragraph that follows is on point all the way back to 2016, if not before:

The Democrat Party is the political expression of the class power of PMC, their base (lucidly explained by Thomas Frank in Listen, Liberal!). ; if the Democrat Party did not exist, the PMC would have to invent it. . ("PMC" modulo "class expatriates," of course.) Second, all the working parts of the Party reinforce each other. Leave aside characterizing the relationships between elements of the Party (ka-ching, but not entirely) those elements comprise a network — a Flex Net? An iron octagon? — of funders, vendors, apparatchiks, electeds, NGOs, and miscellaneous mercenaries, with assets in the press and the intelligence community.

Note, of course, that the class power of the PMC both expresses and is limited by other classes; oligarchs and American gentry (see 'industrial model' of Ferguson, Jorgensen, and Jie) and the working class spring to mind. Suck up, kick down.

* * *

Somebody's gotta clean the granite countertops and take little Madison to violin lessons:

I missed this when it came out….

"America Is An Out-Of-Touch Gerontocracy, And I'm Glad I Don't Live There" [Dianne Feinstein, The Onion]. "Seriously, can you imagine actually having to live in the United States? Their miserable citizenry must be furious with their ancient, dementia-addled representatives, who keep a stranglehold on power and prevent widely beneficial and popular policies from ever coming to pass. Listen to everyday Americans, and you'll hear common desires for basic security and opportunity, yet they're stuck with leaders who prioritize their own careers and bank accounts over the common good. Every day, I'm relieved I have nothing to do with that sinking ship of a country or its government and am instead a carefree 27-year-old French street musician in love with her accordion."

"Someone's working in Denmark" [Politico]. "The head of one of the most influential Latino organizations in American politics does not live in America. Nathalie Rayes, the president and CEO of Latino Victory, has been running the organization for the past few years from her home in Copenhagen, Denmark, according to four people familiar with the situation." • Oh.
Realignment and Legitimacy
"Autogynephilia and the Sexualization of Shame" [Wesley Yang, Year Zero]. A long introduction to an article that was too turgid for me to begin, let alone finish. "The transgender dogmas being taught to elementary schoolchildren and inscribed into law and policy by most of the governing institutions of the Western world strictly cordon off cross-gendered identification from any association with sexual desire. The dogma holds that each of us has an internal subjective sense of being male, female, both, or neither, that may or may not align with our sexed anatomy. This sense is innate, immutable, knowable only to ourselves, and knowable to others only through our own personal testimony, which is held to be dispositive of the question of who we really are, and indeed have always really been. This 'gender identity,' a non-observable disembodied essence within each of us (that in practice is always reducible to our degree of conformity to gendered stereotypes), should in turn dictate which intimate spaces we can access, against whom we compete in athletics, and how we are to be addressed by others, both in our presence and in our absence, as a matter of courtesy and decency, and ultimately — for this is the goal that transgender activists have already obtained in certain jurisdictions and are seeking everywhere — as a matter of law." • Fron the title, autogynephilia: "a male's propensity to be sexually aroused by the thought of himself as a female," the theme of "Circe," chapter 15 of Joyce's Ulysses (published 1920).

"Why Some Companies Are Saying 'Diversity and Belonging' Instead of 'Diversity and Inclusion'" [New York Times]. • Terminological churn = fees, new book deals, etc.

"Independents are just delusional partisans, episode 12" [Carl Beijer]. "the largest political faction today is not self-identified Republicans, and it isn't self-identified Democrats; it's Pseudo-Independents, people who call themselves independent but who are just as partisan as everyone else. Only about 10% of people who call themselves independent actually think, vote, or see the world differently from your average Democrat or Republican. Pseudo-Independents are the largest voting bloc in our country, and if you miss that you aren't going to have any idea what's actually going on…. 'Independent leaners' aren't really independents: they're just pseudo-independent partisans. 'Independents' who kinda maybe a little lean Republican look at the economy exactly like Republicans do, and the same hold true among Democrats." • I think the most important way to slice the population is not by party affilation, but by voting/non-voting (or electorate/non-electorate). Now, what to do about that….
#COVID19
"I am in earnest — I will not equivocate — I will not excuse — I will not retreat a single inch — AND I WILL BE HEARD." –William Lloyd Garrison
Resources, United States (National): Transmission (CDC); Wastewater (CDC, Biobot; includes many counties); Variants (CDC; Walgreens); "Iowa COVID-19 Tracker" (in IA, but national data).
Lambert here: Readers, thanks for the collective effort. We are now up to 50/50 states (100%). This is really great! (It occurs to me that there are uses to which this data might be put, beyond helping people with "personal risk assessments" appropriate to their state. For example, thinking pessimistically, we might maintain the list and see which states go dark and when. We might also tabulate the properties of each site and look for differences and commonalities, for example the use of GIS (an exercise in Federalism). I do not that CA remains a little sketchy; it feels a little odd that there's no statewide site, but I've never been able to find one. Also, my working assumption was that each state would have one site. That's turned out not to be true; see e.g. ID. Trivially, it means I need to punctuate this list properly. Less trivially, there may be more local sites that should be added. NY city in NY state springs to mind, but I'm sure there are others. FL also springs to mind as a special case, because DeSantis will most probably be a Presidental candidate, and IIRC there was some foofra about their state dashboard. Thanks again!
Resources, United States (Local): AK (dashboard); AL (dashboard); AR (dashboard); AZ (dashboard); CA (dashboard; Marin); CO (dashboard; wastewater); CT (dashboard); DE (dashboard); FL (wastewater); GA (wastewater); HI (dashboard); IA (wastewater reports); ID (dashboard, Boise; dashboard, wastewater, Central Idaho; wastewater, Coeur d'Alene; dashboard, Spokane County); IL (wastewater); IN (dashboard); KS (dashboard; wastewater, Lawrence); KY (dashboard, Louisville); LA (dashboard); MA (wastewater); MD (dashboard); ME (dashboard); MI (wastewater; wastewater); MN (dashboard); MO (wastewater); MS (dashboard); MT (dashboard); NC (dashboard); ND (dashboard; wastewater); NE (dashboard); NH (wastewater); NJ (dashboard); NM (dashboard); NV (dashboard; wastewater, Southern NV); NY (dashboard); OH (dashboard); OK (dashboard); OR (dashboard); PA (dashboard); RI (dashboard); SC (dashboard); SD (dashboard); TN (dashboard); TX (dashboard); UT (wastewater); VA (dashboard); VT (dashboard); WA (dashboard; dashboard); WI (wastewater); WV (wastewater); WY (wastewater).
Resources, Canada (National): Wastewater (Government of Canada).
Resources, Canada (Provincial): ON (wastewater); QC (les eaux usées); BC, Vancouver (wastewater).
Hat tips to helpful readers: Art_DogCT, B24S, CanCyn, ChiGal, Chuck L, Festoonic, FM, FreeMarketApologist (4), Gumbo, hop2it, JB, JEHR, JF, JL Joe, John, JM (9), JustAnotherVolunteer, JW, KatieBird, LL, Michael King, KF, LaRuse, mrsyk, MT, MT_Wild, otisyves, Petal (5), RK (2), RL, RM, Rod, square coats (11), tennesseewaltzer, Utah, Bob White (3).
* * *
Look for the Helpers
Covid Is Airborne
ASHRAE's new standard looks good, amazingly enough. Kudos to the engineers:

To start, many of my threads in the past years are in line with the standard. After fighting all the misinformation, it was really cathartic reading though it. Note: This is not the final release, so things can change.

I predicted this by the way!https://t.co/1tr7zJ9Oec
2/25

— Joey Fox (@joeyfox85) May 14, 2023

And this is very good news:

Manufacturers usually report 99% removed after 1 hour or so. It's meaningless. This effectiveness reporting comes from the work of @stephensbrent , @ChemDelphine , @etgall, @mheidarinejad . We can now say how effective it actually is.
22/25https://t.co/y2fJEuXlnt

— Joey Fox (@joeyfox85) May 14, 2023

Covid is airborne, especially when you flush the toilet:

Toilets, wastewater COVID-19, RSV, and Influenza all increasing

This thread will be wastewater related, looking at new variants, levels, and what happens in the air after you flush that wastewater down the toilet with some cool video/graphics. 🧵1/ pic.twitter.com/f44qJz6tBG

— Jeff Gilchrist (@jeffgilchrist) December 10, 2022

Lots of good data in that thread. And more pictures!
Maskstravaganza
Fashion:

Snap-in decoration for Flo Mask, with wings! by steadirob #3DPrinting #Cults3D https://t.co/0GhwIdh6Bh via @cults3d

— Rob van Gelder (@steadirob) April 25, 2023

The Darth Vader masks need to be resigned with decoration as a requirement. Masks need to get out of the medical appliance (sick, abnormal) box into the fashion (fun, normal) box.
Testing and Tracking
Transmission
Infection
Sequelae
"Is coronavirus a disease of the blood vessels?" [British Heart Foundation]. A good review of the literature in plain language, well worth a read. But we end up here: "Luckily, existing drugs can help prevent or limit blood clotting after Covid-19, including ones which have been safely used for many years. Based on the current evidence, UK guidelines for the treatment of Covid-19 recommend that all people admitted to hospital with severe Covid-19 should, where possible and appropriate for the individual, receive the blood-thinning drug to help prevent clotting complications. Further research is being done to find out whether other drugs, such as aspirin, might also help. Unless it's on medical advice, you shouldn't start taking aspirin or any other blood thinner during or after Covid-19 infection. If you have coronavirus and are already prescribed a blood-thinner to manage your existing heart condition (such as aspirin or clopidogrel), keep taking it unless your doctor recommends otherwise. …. Early research shows that certain commonly used medications could do just that. In the UK, the HEAL-COVID trial is examining whether patients who have been hospitalised with Covid-19 benefit from taking the atorvastatin after being discharged from hospital." • Statins? Really?
Science Is Popping
"Feature Article: New Tech Makes Detecting Airborne Ebola Virus Possible" [Science and Technology Directorate, Department of Homeland Security]. From 2021. "In an aerosolized form, the Ebola virus can survive for over an hour. Additionally, laboratory experiments have demonstrated that inhaling small amounts of Ebola virus can be fatal, and there are examples of Ebola virus disease being transmitted between individuals in close proximity, even though they had never been in direct contact with each other…. NBACC researchers assessed and compared multiple devices designed for collecting microorganisms from the air. They concluded that filters made of gelatin were the best for collecting infectious Ebola virus from the air and were also the easiest and safest type of sampling device to use. The researchers utilized a cell line, developed by the Centers for Disease Control and Prevention, in an assay designed to measure the amount of infectious Ebola virus present in a sample. The cell line glows when infected by the virus, which enabled the researchers to differentiate Ebola virus infection from other causes of cell death. After testing various sampling and assay methodologies, the NBACC researchers found that the combination of the gelatin filter samplers and improved assay was easier to use, more reliable, and nearly ten times more sensitive than the previous methods utilized to measure the amount of infectious Ebola virus in air samples. The results of these experiments have been published in two peer-reviewed journal articles, which will enable researchers at other institutions to understand and utilize these newly developed sampling and assay methodologies." • 2021. Why the heck wasn't this technology repurposed for Covid? Heck, why wasn't it commercialized. Do note that former Biden Chief of Staff Klain was Obama's ebola Czar, and so would or should have known about this.
Elite Maleficence
MGH Infection Control strikes back:

Just days after retracting their statement that patients couldn't ASK for provider masking—a violation of patient civil rights—now Mass General tells patients they MUST TRUST MassGen providers to DECIDE FOR THEM. Patronizing. Sorry, you lost trust.

Numbers to call:

— Yaneer Bar-Yam @yaneerbaryam@forall.social (@yaneerbaryam) May 13, 2023

MGH isn't even following its own rules:

To raise concerns:
Quality of Care:
MA Div of Healthcare Quality 617-753-8150
The Joint Commission 800-994-6610

Civil Rights Complaints:
The MA Attorney General's Office: 617-727-2200
Office of Civil Rights 800-368-1019 or 800-537-7697 (TDD) or https://t.co/eq6FcSdr81
4/

— Yaneer Bar-Yam @yaneerbaryam@forall.social (@yaneerbaryam) May 13, 2023

Alert reader LB writes:

Thanks for making me feel I'm not alone in masking and caution. Went to an orthopedic doc today – waiting room was packed and the air was warm and musty so I doubt there was any ventilation….. Was put in little waiting room with this message taped up. No masks but wash your hands?

Especially ironic since Semmelweiss, the pioneer of antiseptic procedures like handwashing, was mocked by others doctors and locked up in an insane asylum (where he died), and his ideas were adopted only years later (when Pasteur discovered a mechanism — germs — and Lister gave antiseptics another go. Well, we have a well-understood mechanism for airborne infections, but as we see, some doctors won't listen.
* * *
Lambert here: I'm getting the feeling that the "Something Awful" might be a sawtooth pattern — variant after variant — that averages out to a permanently high plateau. Lots of exceptionally nasty sequelae, most likely deriving from immune dysregulation (says this layperson).
Case Data
NOT UPDATED From BioBot wastewater data from May 11: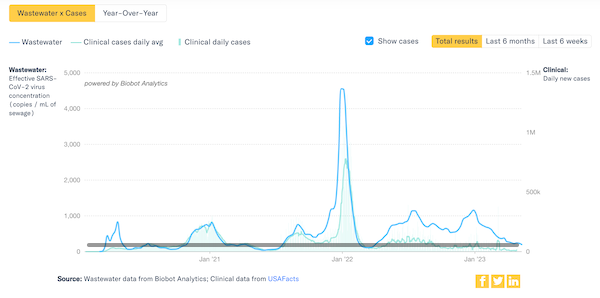 Lambert here: Unless the United States is completely, er, exceptional, we should be seeing an increase here soon. UPDATE Still on the high plateau.
For now, I'm going to use this national wastewater data as the best proxy for case data (ignoring the clinical case data portion of this chart, which in my view "goes bad" after March 2022, for reasons as yet unexplained). At least we can spot trends, and compare current levels to equivalent past levels.
Variants
NOT UPDATED From CDC, May 13, 2023: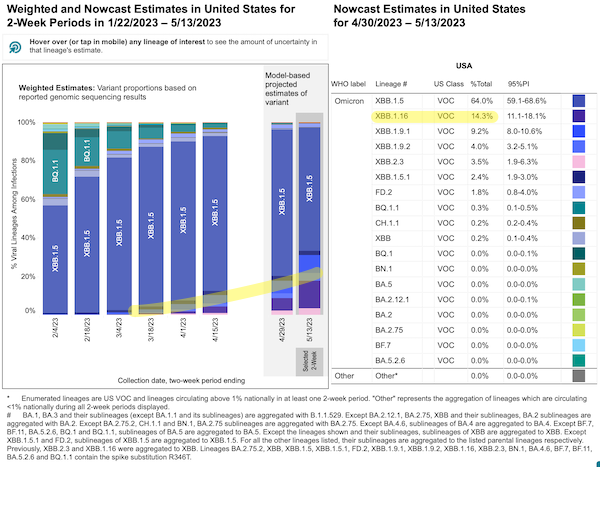 Lambert here: Looks like XBB.1.16 is rolling right along. Though XBB 1.9.1 is in the race as well.
Covid Emergency Room Visits
NOT UPDATED From CDC NCIRD Surveillance, from May 6: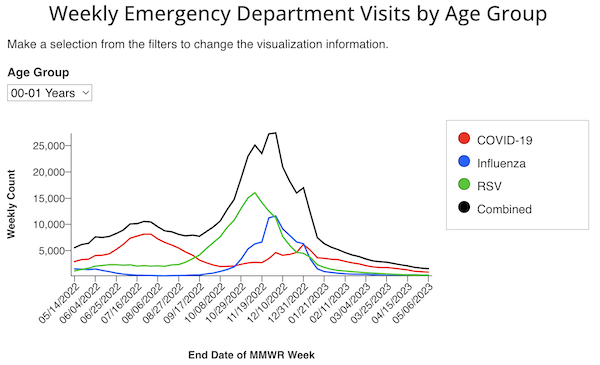 NOTE "Charts and data provided by CDC, updates Wednesday by 8am. For the past year, using a rolling 52-week period." So not the entire pandemic, FFS (the implicit message here being that Covid is "just like the flu," which is why the seasonal "rolling 52-week period" is appropriate for bothMR SUBLIMINAL I hate these people so much. Notice also that this chart shows, at least for its time period, that Covid is not seasonal, even though CDC is trying to get us to believe that it is, presumably so they can piggyback on the existing institutional apparatus for injections.
Positivity
NOT UPDATED From Walgreens, May 8: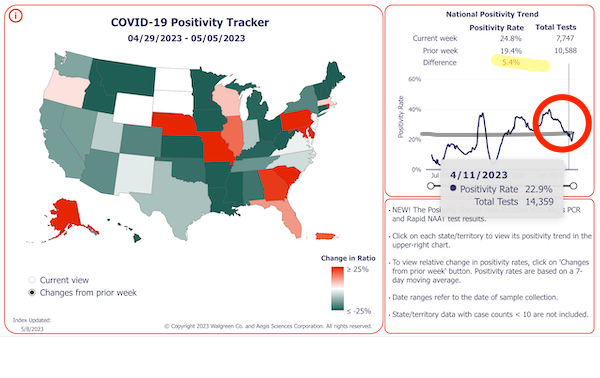 Lambert here: I'm very much afraid Walgreens was up to clean out the last of the test kits before Biden threw us all to the wolves on May 11, when the public health care emergency ended.
Deaths
Death rate (Our World in Data), from May 7: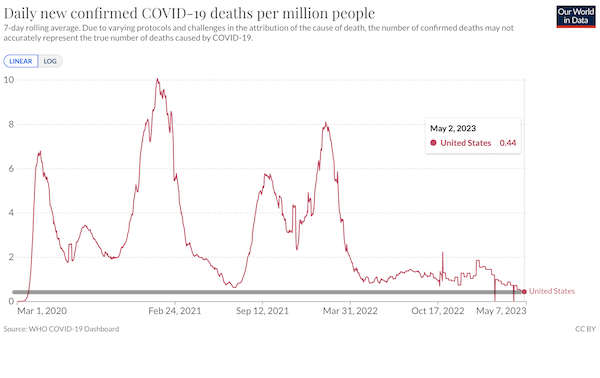 Lambert here: So this data feed, er, came alive again.
Total: 1,162,701 – 1,162,693 = 8 (8 * 365 = 2920 deaths per year, today's YouGenicist™ number for "living with" Covid (quite a bit higher than the minimizers would like, though they can talk themselves into anything. If the YouGenicist™ metric keeps chugging along like this, I may just have to decide this is what the powers-that-be consider "mission accomplished" for this particular tranche of death and disease).
Lambert here: Whatever number is right, 8 isn't that number. Looks like WHO data, unsurprisingly, is bad.
• Never have I seen so many minimizers, not even for climate:
#Covid deaths get minimised with "they were probably dying with something else anyway". I work in End of Life Care. Let me explain how we all die & why this minimising approach to Covid associated deaths makes no sense, although it may be a mass protective mechanism globally 🧵 pic.twitter.com/OcSYU0ze3b

— Palliative Doc (@PrognosticChats) May 6, 2023
And:
The bus precipitated your decline and your untimely death. Without the bus you'd still be here. The bus mattered. Covid matters. Let's not minimise deaths related to it anymore, whether it's a primary or a contributing cause.

— Palliative Doc (@PrognosticChats) May 6, 2023
Excess Deaths
NOT UPDATED Excess deaths (The Economist), published May 9: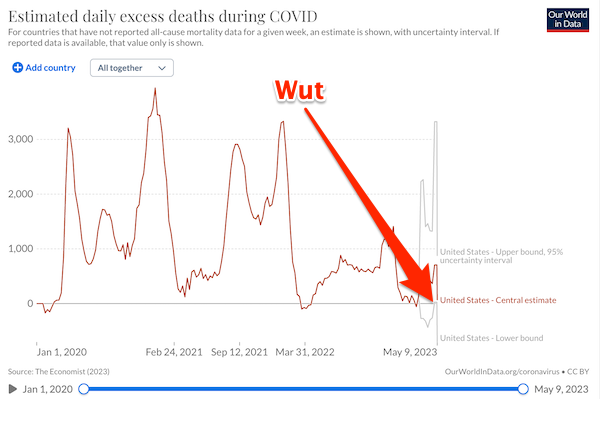 Lambert here: Based on a machine-learning model. (The CDC has an excess estimate too, but since it ran forever with a massive typo in the Legend, I figured nobody was really looking at it, so I got rid it. )
• How to game excess deaths:
This is exactly what the UK is doing! So, for example, in the last "Monthly mortality analysis, England and Wales" by the UK Office of National Statistics, the 5 years used for the baseline now include 2 two pandemic years: 2021 and 2022.https://t.co/sZYsKpyTnc pic.twitter.com/GT1Xc3HMkT

— Pedro Lérias (@RPLerias) May 12, 2023
Stats Watch
Manufacturing: "United States NY Empire State Manufacturing Index" [Trading Economics]. "The NY Empire State Manufacturing Index unexpectedly sank to -31.8 in May of 2023 from 10.8 in April, compared to forecasts of -3.75. It is the lowest reading in four months, pointing to a sharp drop in manufacturing business activity in the New York State, after a big rebound in April."
* * *
Commodities: "The World's Biggest Gold Miner Bets Big on Copper" [Wall Street Journal]. "Newmont NEM said it has agreed to acquire Australia's Newcrest Mining for $17.5 billion, concluding weeks of talks over a sweetened offer by the U.S. company that wants to complete the largest-ever M&A deal in the gold-mining industry. Newmont's pursuit of Newcrest illustrates how gold producers are seeking to make deals as the industry is struggling to make large discoveries of the precious metal. It also extends a battle for control among miners for commodities essential for making electric vehicles and renewable-energy infrastructure, as Newcrest's gold mines also produce significant amounts of copper."
The Bezzle: "Vice Media files for Chapter 11 bankruptcy, the latest in a string of digital media setbacks" [Boston Globe]. "Vice Media is filing for Chapter 11 bankruptcy protection, the latest digital media company to falter after a meteoric rise. Vice said Monday that it has agreed to sell its assets to a consortium of lenders — Fortress Investment Group, Soros Fund Management and Monroe Capital — in exchange for $225 million in credit. Other parties will also be able to submit bids. The company expects the sale to conclude in the next two to three months. During the process, Vice's media brands will continue to produce content and the company will keep paying its employees and vendors, according to a Monday press release." • Once "worth" $5.7 billion.
The Bezzle: "Crypto's Most Influential Companies Often Follow Their Own Rules — Even After FTX's Collapse" [Bloomberg]. The deck: "A review of practices at 60 of the sector's most influential companies found many lack basic guardrails." • There's that darn "guardrails" trope again. I don't know why it annoys me so much, but it does.
* * *
Today's Fear & Greed Index: 60 Greed (previous close: 57 Greed) [CNN]. One week ago: 60 (Greed). (0 is Extreme Fear; 100 is Extreme Greed). Last updated May 15 at 1:24 PM ET.
Rapture Index: Closes up one on Oil Supply/Price. "Oil prices are back up" [Rapture Ready]. Record High, October 10, 2016: 189. Current: 185. (Remember that bringing on the Rapture is good.) NOTE on #42 Plagues: "The coronavirus pandemic has maxed out this category." More honest than most! I wonder where that's coming from?
The 420
"Pot Acceptance Is Climbing Even as Illicit Market Has Grown" [Bloomberg]. "More people report using marijuana, while naysayers are dwindling, according to New Frontier Data, a cannabis consulting firm….. An estimated 42% of US consumers have used cannabis and plan to use it again — up from 39% a year ago, the report found. On the flip side, only 30% said they had never used it and never would, down from 34% a year ago. More people were also open to trying it for the first time, while only 13% said they'd never use it again, a percentage point lower than in 2022…. The data shows rising approval despite the fact that legalizing marijuana hasn't panned out as planned. Creating state-licensed sales was supposed to create a safe supply and get rid of the health risks and organized crime that came with the illicit market. Instead, underground sales of the drug have grown over the past few years, rising to $77 billion in 2022 from $70 billion in 2020, according to New Frontier estimates."
Sports Desk
Everybody's all excited about the Lakers but come on:
I remember when basketball was basketball!
Zeitgeist Watch
"Why can't I paint my door yellow? The psychology of community decor diktats" [Financial Times]. From the UK, but here we have Homeowner Associations. And, of course, social media. "The canopy quarrel calls to mind the 1972 case of Amabel Wellesley-Colley, a resident of Bath's Royal Crescent who painted her front door primrose yellow instead of the customary cream. A tribute to her great-grandfather the Duke of Wellington and his favourite colour, it was deemed a "most regrettable choice" that, in the eyes of Bath Preservation Trust, diminished the desirability of the Grade I-listed Ionic Georgian row…. Despite notices insisting it be repainted — the Town & Country Planning Act 1968 and listed buildings laws of the time prohibited alteration without permission — Wellesley-Colley put up matching yellow blinds. She sunbathed in a yellow bikini on her balcony. The ensuing legal dispute led to a public inquiry — and she attended in a yellow suit. After the secretary of state for the environment weighed in, Wellesley-Colley won, and the yellow door remains — a prized part of the local history it was once said to be tainting." • So by all means turn your front yard into a prairie.
Class Warfare
"Sunday Reads: The Cost of Being Human" [Lyz Lenz, Men Yell at Me]. "Single mothers do less housework and have more leisure time because they simply are not married to a man. Becoming a single mother made me less resentful of the labor, and less frustrated by the mess, simply because the labor is easier and court-mandated at 50/50, and the mess isn't there. I wrote about this for Glamour in 2020, about how I thought single motherhood would be more work and I was shocked to discover it was the equality I'd been looking for. Before I had kids, I never believed women when they said they didn't want anything for Mother's Day, but now I know that's true. I don't want anything except to sit beside the two people I love the most in this hard, beautiful life. I want to ponder the curves of their cheeks, which every week are becoming less and less babyish. I want to hear them talk about their hopes and dreams and TikTok videos that they love. I want to listen to my son babble about Pokemon and my daughter rant about injustice. I want to jump with them on the trampoline and then, when they are in bed, I want to sit on the porch and just feel how full my heart is."
"Life-making or Death-making?" [Midnight Sun]. "Clearly, the capitalist economy has learned to ride out this deadly pandemic. Even if many businesses have gone under, and even if today's economic recovery turns out to be shallow, as some critics warn, the system as a whole did not implode. Nor is its collapse imminent. That's because – as the pandemic has made crystal clear – in the trade-off between economic health and workers' health, capitalism sides with the former, which is another way of saying that capitalism sides with death over life. While regularly defended as a system of individual freedom, capitalism is first and foremost a system of profit-making. And profits can be generated only by thwarting our efforts to live full, meaningful, healthy lives, and by degrading, policing, and surveilling the lives of some people more than others. In other words, violence is necessary for the production of profit. In this violent process, the state is a faithful partner. It regulates workers' life-making activities in ways that minimize the risk to capital's ability to dispossess and exploit those over whom it rules. And the pandemic provides us with myriad concrete examples of how state-led social reproduction regimes, or what might be called 'life-making-from-above,' offer only ambivalent and uneven support for life while routinely intensifying the vulnerabilities of the oppressed. Yet it also provides us with other, more uplifting examples – examples of 'life-making-from-below,' in which ordinary working-class people organize to meet individual and community needs, and to enhance their lives by expanding their control over their social reproduction."
News of the Wired
"Larry Page Missing as Google Founder Faces Jeffrey Epstein lawsuit' [Newsweek]. "The U.S. Virgin Islands is struggling to find Google co-founder Larry Page in order to subpoena him as part of a lawsuit against JP Morgan Chase. According to federal court documents filed on May 4, the Government of the United States Virgin Islands has been attempting to find a physical address of Page to subpoena him. The documents state that the government identified four possible addresses, none of which were valid. Prosecutors are now requesting the federal government allow Page to be summoned via Alphabet, Google's parent company, due to the fact he still remains a board member despite stepping down as Google's CEO. The initial subpoena documents to Page were issued on April 11…. Other high-profile billionaire businessmen to be subpoenaed in connection to the lawsuit include fellow Google co-founder Sergey Brin, Hyatt Hotels chairman Thomas Pritzker, media magnate Mortimer Zuckerman and former CAA talent agency chairman Michael Ovitz." • Hmm.
* * *
Contact information for plants: Readers, feel free to contact me at lambert [UNDERSCORE] strether [DOT] corrente [AT] yahoo [DOT] com, to (a) find out how to send me a check if you are allergic to PayPal and (b) to find out how to send me images of plants. Vegetables are fine! Fungi and coral are deemed to be honorary plants! If you want your handle to appear as a credit, please place it at the start of your mail in parentheses: (thus). Otherwise, I will anonymize by using your initials. See the previous Water Cooler (with plant) here. From PF: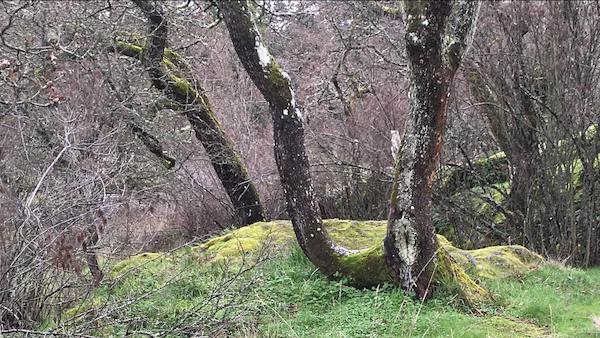 PF writes: "This picture was taken with a phone camera. British Columbia." Phone trees, eh? I always wondered what one looked like.
* * *
Readers: Water Cooler is a standalone entity not covered by the annual NC fundraiser. So if you see a link you especially like, or an item you wouldn't see anywhere else, please do not hesitate to express your appreciation in tangible form. Remember, a tip jar is for tipping! Regular positive feedback both makes me feel good and lets me know I'm on the right track with coverage. When I get no donations for five or ten days I get worried. More tangibly, a constant trickle of donations helps me with expenses, and I factor in that trickle when setting fundraising goals:
Here is the screen that will appear, which I have helpfully annotated: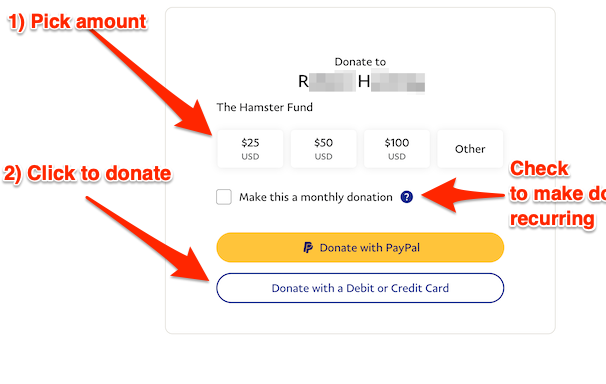 If you hate PayPal, you can email me at lambert [UNDERSCORE] strether [DOT] corrente [AT] yahoo [DOT] com, and I will give you directions on how to send a check. Thank you!